When you click on links to various merchants on this site and make a purchase, this can result in this site earning a commission. Affiliate programs and affiliations include, but are not limited to, the eBay Partner Network.
Stevie Gerrard was one of my favorite soccer players of the 00s.
When I was in high school, I'd scream "GERRARDDDDDDDD" when trying some pot shot from outside the 18-yard box.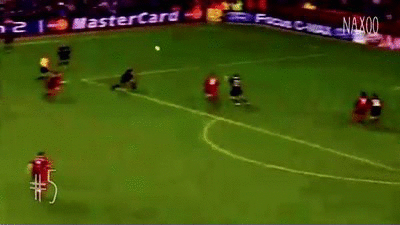 Needless to say, mine were a little less (okay, a lot less) successful than Gerrard's were.
In this article we'll look at the best Steven Gerrard cards, including his true rookie.
Best Steven Gerrard Cards
Merlin Premier League 1999 Steven Gerrard Rookie Sticker #U42
The Merlin Premier League sticker from the 1998/1999 season is Gerrard's earliest available sticker you can get. It's from his rookie season, so this sticker certainly has some significance for Gerrard's career.
This is a relatively rare sticker, especially because many collectors like to keep this sticker for their collection. Also, like we mention in our articles on cards vs stickers, many collectors stuck the stickers into albums and whatnot over the years – so not many stickers last the test of time.
It features a young Gerrard looking to break into Liverpool's senior team for the first time. Initially, Gerrard was played on the right-wing, which is not his natural position, so Gerrard once said he felt nervous because he played in that position. However, his qualities were quickly noted and he was moved to central midfield – and the rest is history.
Futera 2000 Gerrard Liverpool Fan's Selection #122
You might find this card listed as Gerrard's rookie card, it's not his true rookie card though… However, it's the first card of Steven Gerrard in the Futera set.
On the front of the card, you'll find a young Steven Gerrard in action with what you'd call an early 2000s card design. Plus, you'll see the green Liverpool kit, which was the club's go-to color for away and third kits for quite some time – although they don't use these colors today anymore.
On the back of the card, you'll find some basic information about Gerrard. The card is very rare though, and you probably won't find many of them on the market – which justifies its asking price.
2000-2001 Topps Steven Gerrard Gold Card #71
This card comes from the Topps official Premier League card collection for the 2000/2001 season. In this season, Gerrard established himself as a first-team player for Liverpool, and it's also the year when Steven was named the PFA Young Player of the Year.
So the card has some historic significance, although it's also a rare card to find these days. It features Gerrard in action with a blurred background. It's one of the earliest cards of Gerrard you'll find on the market, which is why it would make for a great addition to your card collection.
On the back of the card, you'll find a nice description of Gerrard's career up to that point. It says that Gerrard "has made incredible progress since graduating from Liverpool's football academy." This was the season that signaled there were great things to come from this young lad from Liverpool.
Topps Premier Gold 2002 Steven Gerrard Liverpool Card
Gerrard's career was kicking off in 2000/2001, and it was in the 2001/2002 season (where this card is from) that he continued to progress as a player. Even though he only managed to score 3 Premier League goals this season (compared to 7 goals from last season), this Gerrard's card remains a classic.
The design of the card is quite similar to the 2000/2001 Topps Gerrard card – on the front, there's an image of a young Gerrard in action. On the back, you'll find his career record as well as a short description of his career so far.
Futera 2006 Porcelaine Card Steven Gerrard
Here's a card that'll resonate mostly with the hardcore Steven Gerrard fans, but also with England fans. It's a porcelain card, so it's a bit different from regular cardboard cards. But that's what makes it so special.
It's also incredibly rare. In fact, this is one of the only pieces of this card I was able to find on eBay. On the front, there's a Steven Gerrard playing for England at the World Cup of 2006. But it's the back of the card that makes this piece so special.
On it, there's a piece of Gerrard's game jersey attached to the card. It also says the card's hand-crafted, which only adds more value to it. If you're a huge Gerrard fan and if you want something different, definitely consider this one.
2014 Panini Prizm World Cup Signatures #S-SG
The 2014 Autograph version of Panini's cards were a big hit back then. It featured cards with autographs of the world's biggest stars. Obviously, Gerrard was one back in 2014, even though his career was entering his senior years.
The card itself is from the 2014 World Cup, where Gerrard captained the England national side. The autograph edition of the card is certainly a great card for collectors. The signature on the card makes it extra special, and of course, it has Gerrard on it with an airbrushed England shirt.
2014 Topps Premier League Steven Gerrard
The 2013/2014 season was a season of almost for Liverpool. It was also one of Gerrard's best seasons in a Liverpool shirt, reaching the landmark of scoring 100 Premier League goals for Liverpool. He managed to score 13 goals and provide 13 assists this season.
Unfortunately for Liverpool, they only narrowly missed out on the Premier League title. It was one of the best Liverpool teams in years, with Suarez, Gerrard, Sterling, and Sturridge providing the goods for the team under Brendan Rodgers.
The club finished the season only 2 points behind Manchester City, although they should have won the title after blowing a crucial 3-0 lead against Crystal Palace. Gerrard was instrumental for the Reds that season, captaining the side that almost managed to win the Premier League title after 30 years for Liverpool. That's why this is a great card to own.
Related Articles