When you click on links to various merchants on this site and make a purchase, this can result in this site earning a commission. Affiliate programs and affiliations include, but are not limited to, the eBay Partner Network.
Cristiano Ronaldo is one of the most recognizable soccer players on the planet – and depending on you ask, the best player of all time.
Regardless of who you ask, the Portuguese superstar is easily one of the absolute best to ever play the sport.
So, it's no surprise that Ronaldo's rookie cards are definitely collectors items.
In this article, we're going to look at all the different options for Cristiano Ronaldo rookie cards out there.
Keep in mind, with soccer, there's a bunch of different cards that could count as a "rookie" card or sticker. So we'll be a bit liberal with our definitions. Also, there are a bunch of European sticker brands out there, so we're just going to stick to the more popular ones.
Cristiano Ronaldo Sporting Lisbon Rookie Stickers
While he made his name playing for Manchester United, he actually played 25 games in Portugal for Sporting Lisbon – where he ended his academy career.
While Ronaldo was only in the first team for around a year, he does have two cards or stickers available – if you can find them!
2002-03 Panini Futebol Mega Craques Portugal #137 Cristiano Ronaldo
Many see this beauty as the true Cristiano Ronaldo rookie card.
It shows a young Ronaldo dribbling at defenders in the Sporting Lisbon home kit.
As you can probably imagine, soccer trading cards from 2002 weren't that widely spread at the time, so these cards are very hard to find – and if you do, it's likely to be raw or poorly graded. This 9.5 is incredibly rare!
Still, you can jump in at a decent price if you buy raw. As the soccer card hobby grows, this card is likely to be one of the absolute standouts.
2002-03 Cristiano Ronaldo Panini Futebol #306
While there have been soccer cards released over the years, soccer stickers have been a lot more popular.
Panini started manufacturing soccer stickers in the 1960s and the stickers and the collector's book have been a staple for every soccer loving kid growing up.
Ronaldo's sticker from the 2002 season is his other traditional rookie piece. There were a lot more of these stickers produced than the cards, so you might find these easier than the mega craques cards – and they'll likely be cheaper too.
However, stickers – especially older ones – can be hard to find these days for a few reasons:
They aren't as sturdy as cards – so many get destroyed
They were released in Europe, sometimes only in the country of the league. So these Portuguese stickers were mainly only sold in Portugal.
The stickers came with collector albums, so almost every sticker was stuck into the book.
Find the Cards on eBay
Cristiano Ronaldo Manchester United Rookie Cards
While not technically his rookie year, Ronaldo's first Manchester United cards are still cards that fans want to add to their collection.
This set of cards from Upper Deck only featured players from Manchester United, so there was a fair few Ronaldo cards in there – five in total, including his first auto cards, numbered to 39 and 25.
These cards don't come up that often these days. However, there are still some bargains with them compared to his Lisbon rookies. For a while, they were incredibly undervalued and under-priced, but eventually people caught on.
Cristiano Ronaldo Portugal Rookie Cards and Stickers
Panini Euro 2004 Sticker #23
Cristiano Ronaldo's first major tournament with Portugal was Euro 2004, where he was a driving force behind the Portuguese making the final – where they lost 1-0 to Greece in what's probably the biggest upset cup win in International tournament history.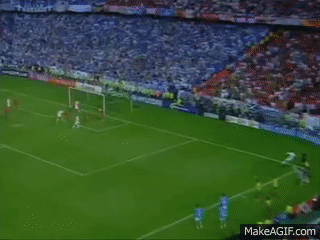 Still, Ronaldo was one of the stars of the tournament, and his Euro 2004 card has become an item collectors want to get their hands on. Ronaldo's sticker prices will only go up over time too, so these can be a great value purchase.
Panini World Cup 2006 Sticker #298
Cristiano Ronaldo's first World Cup is special because it was also Lionel Messi's first World Cup – the two greatest of their generation sharing the same debut World Cup.
Ronaldo's sticker is has a simple look to it – as you've probably noticed, soccer stickers are just a close-up photo, compared to the action shots you'll see with most cards.
You can buy the card easily on eBay and it'll likely rise in price over time too.
2006 Panini World Cup Card #169
Along with the World Cup stickers, there were some World Cup cards released too. Actually, there were two sets. The main set, shown here is steadily growing in price. I actually think this card will have great value down the line.
2006 Panini Goaaal! Germany World Cup – Cristiano Ronaldo #140
Along with the set above, there was a Goaaal! set released (to my knowledge, it was only released in the UK).
The card hasn't really taken off like the other set price-wise yet, but I believe it will. At the end of the day, it's still a Cristiano Ronaldo rookie World Cup card!
Is a Cristiano Ronaldo Rookie Card a Good Investment?
If you're looking for a soccer player to invest in, Ronaldo is a safe bet. He is one of the very best and will have value down the line. So, yes, he's a great player to buy cards for investment purposes.
Obviously, when dealing with something like trading cards, there's always a risk involved – so make sure you do your homework and check card values before you buy.
Find Cristiano Ronaldo Cards on eBay