When you click on links to various merchants on this site and make a purchase, this can result in this site earning a commission. Affiliate programs and affiliations include, but are not limited to, the eBay Partner Network.
When you think about iconic baseball players, Mickey Mantle is up there as one of the greats.
And he also got in a bit of a fight with Kramer at his fantasy baseball camp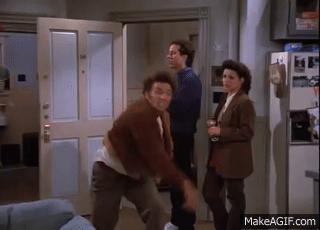 The Yankee centerfielder is one of the icons of the game, and as you can imagine, he has some of the great chase cards throughout baseball.
The 1956 Mickey Mantle Baseball card is one of those 'chase cards' that any collector or investor wants to add to their collection.
In this article we'll look at the 1956 Mickey Mantle Baseball card and where you can buy it (And for how much!)
About The 1956 Mickey Mantle Baseball Card
This is one of Mickey Mantle's most popular cards. I'd even say it's one of the hobby's most popular cards.
The card has Mantle with the biggest grin. And to be fair, Mickey has every reason to smile.
He had an awesome 1956!
Mantle won the Triple Crown by leading the league with a .353 batting average, getting 52 home runs and hitting in 130 runs (RBI).
Mantle also was top of the league with 132 runs scored and a .705 slugging average.
So, yeah… it was a big year for Mantle.
About the Card
The 1956 Mickey Mantle Baseball card is the main card in the Topps set from that year, which doesn't have any real big rookie cards in it's set.
There are two different variations of this card – one has a white background and one with a grey background.
From what I can tell, the white background is harder to find and the grey looks better. So it's really up to you on which one to chase.
This card isn't super hard to find, but it is hard to find centered versions of the card, and many of them were cut really rough.
1956 Mickey Mantle Baseball Card Pop Report
Like I said before, while this card isn't super-rare, it is hard to find the grades centered.
That comes through with the population report from PSA.
As you can see, there are not many highly graded cards.
While this pop report is only from the time of writing, it's unlikely that those numbers will jump around too drastically.
How much is a 1956 Mickey Mantle card worth?
As you can tell looking at this card, prices vary on the pop report for the card. Obviously a higher graded card sells for a lot more than a lower grade.
For PSA 3s, you're probably looking for around $1,000 and the price goes up and up from there.
In regards to the highest grades, that's a little hard to say. Because the top graded cards are so few and far between, it's hard to get an accurate read on the value. As you can assume, they don't come up for sale every day.
And with that scarcity, the jump between, let's say a PSA 8 and PSA 9 grade is massive because the low pop count.
Related Articles