When you click on links to various merchants on this site and make a purchase, this can result in this site earning a commission. Affiliate programs and affiliations include, but are not limited to, the eBay Partner Network.
When looking at the best soccer player of all time, there's some common names that always make the list.
Pele is one of the names, and modern superstars Messi and Cristiano Ronaldo are some of the names that frequent the list, another that is widely regarded as one of the best ever is Diego Maradona.
The Argentine midfielder was the best player of his generation and was able to dominate for the Argentinian national team, Barcelona, and Napoli.
Granted, his career probably didn't have the end or longevity that we would have wished…Regardless, Maradona did so much during his peak that he's still arguably the greatest player of all time.
His 1986-1990 is epic. Multiple Serie A titles, a World Cup title, and another World Cup second place is more than most do in a lifetime.
In this article, we're going to look at some of the best Diego Maradona rookie cards and stickers, along with some other notable cards.
Diego Maradona Rookie Cards
Note, Maradona started his career in Argentina in 1976, so cards from his rookie season are pretty much impossible to come by.
1979 Industria Argentina Super Futbol Diego Maradona
This card is from the 1979 Industria Argentina Super Futebol set and has Maradona for his first ever club, Argentinos Juniors.
This card is incredibly rare with only 3 copies graded!
A funny note, to my knowledge, I'm pretty sure just about all the sets at the time were actually produced by Crack. However, the grading companies list this set as Industria Argentina. So who knows?
1982 Este La Liga #6
This card is Maradona's first from his time in Europe, with Barcelona being his first European club.
Another rare find, this 1982 Barca rookie is one of the best club finds from Maradona's career – especially seeing those cards from Argentina are rare.
This set is cool with both the head shot and the action shot, which is pretty rare – even by today's standards.
If you're a serious Maradona collector, or looking for an undervalued card of his, this is the best option.
1979 Panini Calciatori Italian #312
This sticker, from the Italian Calciatori set is seen as one of, if not the true Maradona rookie card in national team colors.
A very young looking Maradona made his national team debut in 1977, which is absolutely insane when you remember his career started a year earlier.
Mighty impressive…
The Italian Calciatori set only covers Italian leagues, however, this set also has a section called "Mondocalcio" or, World Football. This part featured other greats like Kevin Keegan, Michel Platini and Zico.
Of all the cards, this is probably the most well-known and widely looked at as the "chase card" for Maradona.
ASES MUNDIAL 82 ESPANA 1982 WORLD CUP #54
Obviously, when thinking about Maradona's debut World Cup in 1982, I could have gone with the Panini World Cup sticker. Which, let's be honest, is the way more popular World Cup product.
However, it wasn't just Panini that made products for the competition.
These round pog-type collatable were actually pretty common back in the day.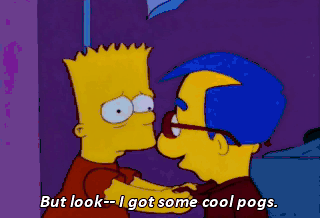 While they may not be popular these days, they're a cool piece of history, especially if the 82 Panini is out of your price range.
Other Notable Diego Maradona Cards
Final Thoughts
Maradona is one of the greatest, and most important, players in the history of the sport. His rookie cards and stickers are excellent additions to any collection, and a good long-term investment if you're looking to potentially sell off your cards one day in the future.