When you click on links to various merchants on this site and make a purchase, this can result in this site earning a commission. Affiliate programs and affiliations include, but are not limited to, the eBay Partner Network.
He may not be the best ever, but I think Shaq is probably the most dominant NBA player in his prime.
But it wasn't just his size that made him dominant – he was crazy-agile too.
Defenses couldn't stop the big man when he was at his peak. Shaq also was the sole reason a bunch of big and not-so-good end-of-the-bench NBA centers were employed in the late 90s and early 00s – They were dedicated Shaq-stoppers and were really only there as a body who could match up with the biggest force in the league.
Best known for his combo with Kobe Bryant, Shaquille O'Neal was one of the biggest starts on the planet – not just in the NBA – in the 90s.
Shaw debuted during the Junk Wax era, so his cards were somewhat overproduced compared to other stars. However, Shaq rookie cards still have value today.
In this article, we'll look at the Shaq rookie card value, and which ones are worth investing in.
Note: With any article like this, the market does move a lot. It's always best to do your own research before you invest in a card.
The Most Expensive Shaq Rookie Cards
Here we're going to look at some of the most valuable Shaquille O'Neal rookie cards available today.
Granted, for these we're only going to look at price of the highest-grade. So for PSA, that's a 10, and BGS is a 9.5, or a 10 if I can find one. If those letters mean absolutely nothing to you, check this beginners guide to card grading.
1992 Stadium Club Beam Team Members Only Shaquille O'Neal
These 'Beam Team' inserts were a hot commodity with some of the best NBA players from the season making the cut.
It wasn't actually a 'rookie' set, but Shaq was an absolute superstar when he joined the league, he made the cut even as a rookie.
These cards have shot up in value over the last few years. While you could have bought one for about $500 in 2015-ish, these days you'd struggle to find one for under $5,000.
Considering the year this card was produced, it has a pretty low pop with graders, so there is some scarcity.
Find Shaq Rookie Cards on eBay
1992 Upper Deck Basketball Shaquille O'Neal ROOKIE RC #1
This is a great little card with a very cool design.
These cards with a three-photo display of Shaq throwing down a power-dunk only had a somewhat limited print at the time of release (well, limited for 1992 when they over-printed everything), so they're a little more rare than other cards of the same era. There's also only a few PSA 10s in comparison to other grades too – so you'll pay extra for the mint-condition cards.
Like most cards on this list, they've shot up 10x in prices over only a few years. However, a lot of early 90s cards do fluctuate in value quite a bit with the hype.
If you're a 90s card fan though, this Shaq rookie is an awesome addition to the collection.
1992 Fleer Rising Stars Golden Book Shaquille O'Neal ROOKIE RC
This card doesn't show Shaq in some power-dunk or grabbing a board, but when you see Shaq in these cards you notice just how big he is compared to everyone else.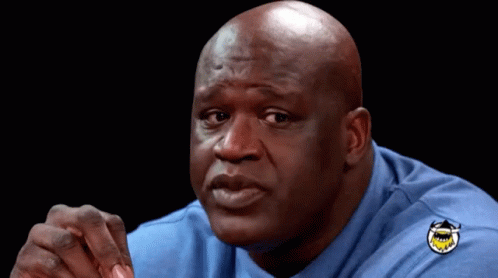 And by everyone else, we mean other NBA centers who are like 7-foot tall.
This card also looks super 90s with the gold trim and the team-colored basketball texture on the name plate.
Find Shaq Rookie Cards on eBay
1992 Topps GOLD #362 Shaquille O'Neal RC
Another card that makes you go, "jeez he's big" is this Topps rookie card. Just look at the poor Timberwolves player trying to muscle in on the big fella here.
The image shown is of the card's 'Gold' version. Basically, it just means that the names down the bottom are written in gold. The gold versions are slightly rarer than the other versions. The gold version is slightly more valuable due to the scarcity, but both cards are similar price-wise.
Find Shaq Rookie Cards on eBay
Are Shaq Rookie Cards a Good Investment?
If you're looking to invest into Shaq rookie cards, you could do a whole lot worse. Many of the better Shaq rookie cards have shot in price recently, and should continue to do so.
Some cards, especially if they're graded PSA 10, or BGS 9.5, have skyrocketed. For example, if you'd have invested in some of the cards on this list in 2015 or 2016, you could have grabbed cards for $30 that are now worth over $3,000!
Sure, the cards aren't going for $500,000 like Tom Brady rookies, but if you can turn $30 into $3,000 you take that every day of the week.
There is still a great chance that Shaq card prices will get higher and higher as the card industry grows too. I'm not sure you'll see the same growth as before, but you could double or triple your investment.
The funny thing about Shaq cards is that you'd think they would be worth a lot more than they are. Shaq was one of the biggest stars in the league, one of the most dominant big men ever, and has been in the public eye for the last 30 years.
There's a few reasons why Shaq's cards might be undervalued:
Big guys usually aren't as valuable as wings and point guards
Shaq cards are from the Junk Wax era, which means they were overproduced
Still, I think there's a lot of room for these cards to grow in price in the next few years. However, unlike top-tier rookie cards such as LeBron's, I can only see the very best Shaq rookie cards having decent growth. However, the card market is a volatile one at times, so don't throw all your savings on cards – they're a cool investment, but they shouldn't be your only investment.
Find Shaq Rookie Cards on eBay
Final Thoughts
Shaq rookie cards can be an awesome investment and double or triple in value over time. Even if they don't, collectors love Shaq rookie cards. The big guy was one of the best players of the 90s and 00s, and one of almost everybody's favorite players.