When you click on links to various merchants on this site and make a purchase, this can result in this site earning a commission. Affiliate programs and affiliations include, but are not limited to, the eBay Partner Network.
When it comes to wrestlers, there's a lot of big personalities.
But, there's one man that may be the biggest personality of them all.
The Rolex wearing.
Diamond ring wearing
Kiss stealin, wheelin' dealin'
Limousine riding….
Jet flying…
Son of a gun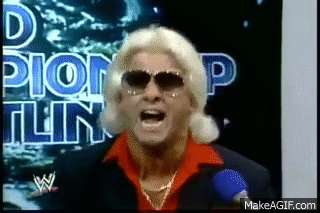 And he's got a hard time holding those alligators down.
Seriously though, depending on who you ask, Flair is the GOAT. All the mic skill in the world, a great in-ring story teller, and could sell like nobodies business.
In this article, we're going to look at some Ric Flair rookie cards, along with other key cards to collect.
Best Ric Flair Card to Collect: 1982 Wrestling All Stars
As with other stars like Hulk Hogan, for Flair, the main early card is from the 1958 Wrestling All Stars set.
The 1982 set is probably the most prestigious set of cards in vintage wrestling. Most sets only included one or maybe two promotions, whereas the Wrestling All-Stars set has all of the key wrestlers from all the promotions.
So it's a star-studded lineup.
While it's probably the most popular of the Ric Flair rookie and early year cards, it's only got a PSA Pop Report of about 160. However, that's obviously subject to change, especially as wrestling cards get more and more popular.
Other Rick Flair Cards to Collect
1978 Wrestling Annual Rick Flair Rookie Card
Ric Flair's first rookie card (that I've found, anyway) is from the 1978 Wrestling Annual magazine.
The set itself, has some key wrestlers from the time, and I have a few cards from this set in my PC. However, the Flair doesn't come up very often.
At the time of writing, there's only 10 graded by PSA, with only one PSA 10, one PSA 9, and two PSA 8s…. So you could say that there aren't many around.
1991 Impel WCW Cards
For many wrestling fans, Ric Flair is synonymous with WCW.
With that, the first WCW set from 1991 has a bunch of cool Flair cards, including a range that include the WCW's two biggest stars, Flair and Sting.
I am a huge fan of this set, and have a fair few in my collection.
The Flair cards have a somewhat low population count, and you can collect them at a good price.
Some Other Ric Flair Cards and Memorabilia
As you can probably tell, with someone like Flair, there's a bunch of other great Ric Flair card and memorabilia options.
Are Ric Flair Cards Worth Money?
Ric Flair is one of the most important wrestlers of his era, and indeed of all time. He was a mainstay in the business for decades, and was hyper-popular throughout.
With that, his cards are some of the most sought after wrestling cards on the market.
So yes, Ric Flair cards are worth money in the wrestling business, and will continue to do so into the future.