When you click on links to various merchants on this site and make a purchase, this can result in this site earning a commission. Affiliate programs and affiliations include, but are not limited to, the eBay Partner Network.
I remember ages ago hearing about this young striker in Belgium who was literally head and shoulders above everyone else his age.
Mainly, I saw him in images like this…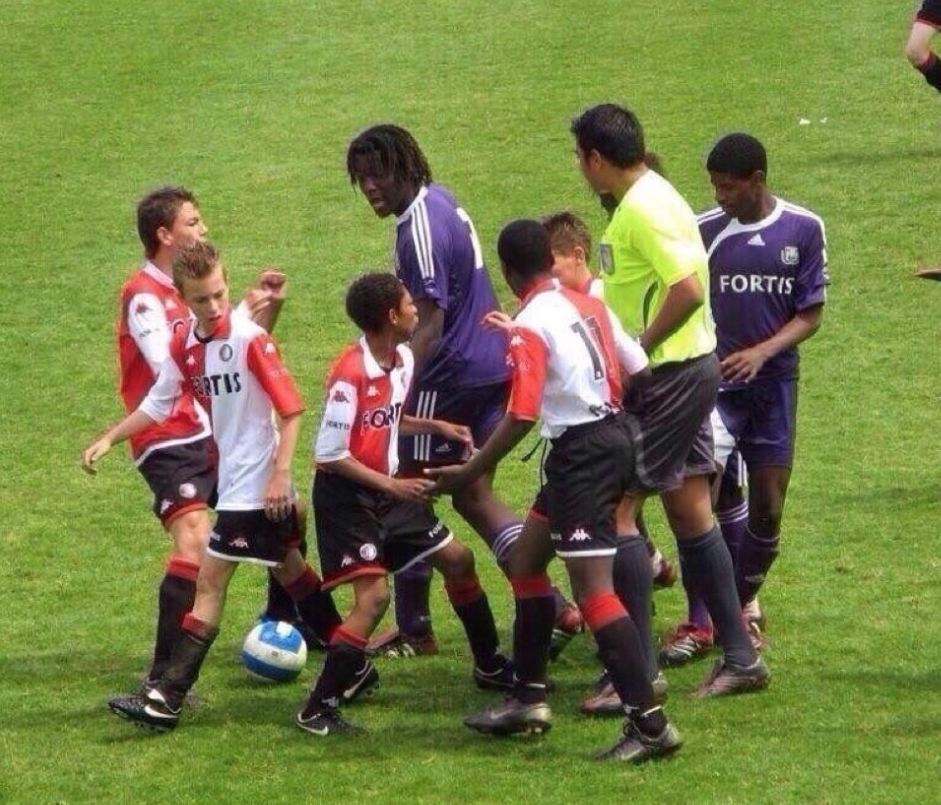 He was an absolute beast as a youngster, and with that, was a must-buy for any Football Manager and FIFA game at the start of his career.
It's not often that players with massive potential like Lukaku end up living up to their expectations, but I'd definitely say Lukaku has done just that. In my eyes, he's one of the more underrated players of his generation. While his time at Man United has been criticized, his goal scoring record in the Premier League was still awesome… and that's including those underwhelming years at United.
In this article, we're going to look at Romelu Lukaku rookie cards, and other notable cards of his.
Romelu Lukaku Rookie Card: 2009/10 Panini Foot Belgium #23
This card from the 2009/10 season is incredibly hard to come across. Which, when you think about it, makes a lot of sense.
The set was only released in Belgium
Soccer stickers weren't a massive deal in 2009 so people didn't put them away to keep
Regular hurdles with stickers, like people sticking them into collector books
At the time of writing, there was only one of these stickers graded. That should rise as soccer stickers get more popular, but the number won't explode overnight. 
If you can get your hands on this sticker though, it's a great find.
2018 World Cup Prizm Lukaku Cards
2018 was Lukaku's first World Cup as a key man for Belgium (although he was in the 2014 squad). In Russia, he scored four goals, leading the Belgian side throughout the tournament.
With that, it meant that Lukaku got his first World Cup Prizm – he wasn't on the 2014 checklist.
Because it's a Prizm, there's about 2435 different parallels and refractors to sort though. But they're a great set regardless. To many, this is the Lukaku card that is easiest to obtain. You'll probably see more fluctuation in Prizm prices because there is so many of them compared to other sets – so there's more sales.
2016 Panini Prizm UEFA Lukaku
Another Prizm from a leading international tournament, the 2016 EURO Prizm set includes some beautiful Lukaku cards.
Again, because it's a Prizm, there's multiple parallels with different levels of scarcity.
Some of the super-rare cards from this set are still highly valued in the hobby.
2014 World Cup Sticker Lukaku
While the 2018 Prizm is Lukaku's first Prizm Card, he was actually on the 2014 World Cup sticker checklist.
Sure, modern World Cup stickers don't necessarily have the reputation that the card sets do, but I absolutely LOVE World Cup stickers from every tournament, and the 2014 ones are slept on a bit, with all of the eyes focusing on Prizm.
Other Lukaku Cards
While this was only a quick selection of some Lukaku cards, there's plenty more to look at.
Related Articles